Jonkanoo or John Canoe, is a traditional Christmas celebration in which revelers parade through the streets dressed in colorful masquerade. It was the major celebration for the slaves. The parade and festivities probably arrived with African slaves who were brought to Jamaica. Not as popular in the cities as it was 30 years ago, Jonkanoo is still a tradition in rural Jamaica.
Traditionally, the characters are played by men wearing white mesh masks. The Jonkanoo characters include the horned Cow Head, Policeman, Horse Head, Wild Indian, Devil, Belly-Woman, Pitchy-Patchy and sometimes a Bride and House Head, which was an image of a great house carried by the reveler on his head. The parade is accompanied by a band consisting of a fife, drums, and a coconut grater used as a scraper, and jonkanoo songs are also sung.
Although Jamaica is credited with the longest running tradition of Jonkanoo, today these mysterious bands with their gigantic costumes appear more as entertainment at cultural events than at random along the streets.
The images included in this series represent a particular character called Pitchy Patchy.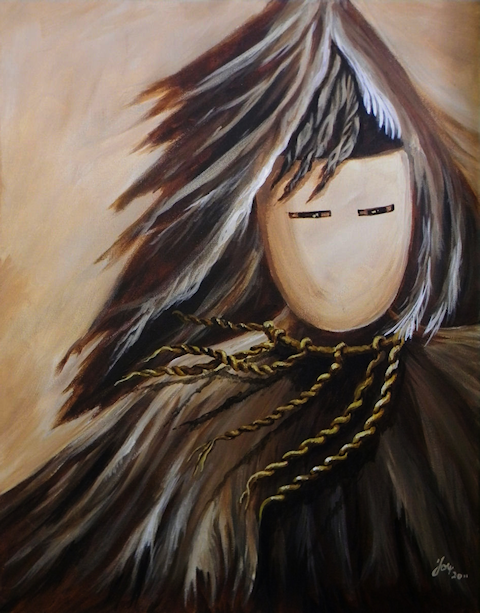 The costume is either made of "scaps" (small left over pieces of fabric that had no further use) of material or any other type of material that is available at the time, generally speaking a little of this and a little of that. He is the whip carrying rabble rouser of the group. It was important that the masks worn did not reveal any part of the wearers face so that there were no repercussions after the celebrations, therefore they were solidly constructed, slip proof. This aspect of our African Heritage, whose origin is derived from West Africa, is often overlooked and rarely discussed by many but is greatly appreciated by rural Jamaica. The limited palate used allowed me to capture the menacing characteristics of Pitchy Patchy, whose job it was to frighten and excite the spectators into giving the characters money.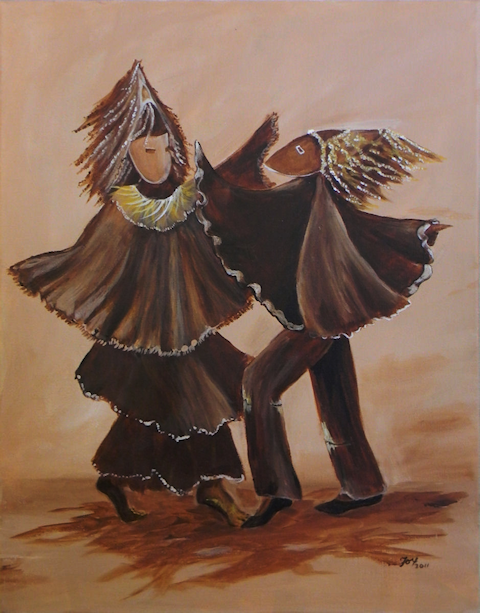 You can also obtain prints from my online store